Welcome to Compact Corner -- Exclusive NLC Content for NCSBN Members
Compact Corner keeps you up to speed on the latest NLC happenings:
Webinars
Conferences
Resources
Reports
Commission updates
Legislative information
FREE Public Webinars Provide Answers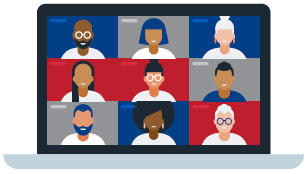 Public Webinars are back! We kicked off a new series of webinars on Jan. 26, with "Helpful NLC Tips for New Nursing Graduates." This one-hour presentation was the first of a year-long series of educational webinars helping nurses, nurse educators, nursing students, nurse employers and stakeholder organizations find out more about the NLC.
 
These bimonthly webinars feature content that's either topic or audience-specific and cover the most frequently asked questions from the public. Content includes a general overview of the NLC, an explanation of primary state of residency, regular legislative updates, and much more.
 
Don't wait to register. It's free and anyone can join. View past recordings, see the upcoming webinar calendar and register at our website.
 
Help us spread the word:
Member Boards: please share this information about NLC Webinars with your constituents, so that they may gain valuable knowledge about the NLC.
In a Year of Problems,
the NLC was a Solution
In the year the world turned upside down, the NLC turned 20. The unprecedented challenges of COVID-19 have shown us that the NLC is necessary to meet modern mobility needs and respond quickly to catastrophic events. The NLC's 2020 Annual Report is a must-read to understand where we have been, and where we're going.
We led groundbreaking work in occupational licensing.
We launched our 2020-2022 Strategic Plan.
We developed a marketing plan with responsive messaging in a rapidly changing environment.
We held our first virtual NLC Annual Meeting.
We collaborated with other health care organizations to promote the NLC as a resource for interstate compacts.
2020 was not the year anyone wanted, but the Commission got a lot accomplished and celebrated a significant milestone.  
Now Trending: NLC Virtual Training for Board of Nursing Staff
We miss seeing you in person. But you don't have to miss us.

Now you can catch up on exclusive board of nursing (BON) training virtually.

NLC Director Jim Puente, MS, MJ, CAE, introduced a five-week series of virtual training sessions starting Jan. 13 through Feb. 10. Each one to two-hour session was offered exclusively to member boards and covered the most important NLC topics for BON staff. Subjects included NLC overview, licensure, discipline and investigation, Nursys and reporting, resources, and FAQs.

The individual sessions were very well-received, with more than 200 attendees. If you weren't able to make one of these sessions, recordings are now available, exclusively to BONs (members-only, log-in required).  
What's New in the NLC Toolkit
In case you missed it, the newest NLC educational video, "Making Travel Nursing Easier with a Multistate License," is now available in the toolkit's video library. This short three-minute video provides information on how the multistate license helps travel nurses, explains primary state of residence requirements and provides clarifying information to help travel nurses avoid common mistakes and pitfalls. Also available: a supplemental and interactive fact sheet featuring travel nurse FAQs.  
Legislative Update
Ever wonder what the status of NLC legislation is in between Commission meetings, where legislative updates are shared? We collaborate with NCSBN's legislative affairs team to bring these updates more frequently. Here are the most recent bill introductions for various states.
Alaska: HB 14 and SB 67
California: A 410
Guam: 13-36 (COR) passed Guam Legislature, awaiting governor's signature
Illinois: HB 580
Massachusetts: SD 671
Michigan: HB 4046
Ohio: SB 3 passed the Senate Committee on Health
Oregon: HB 2335
Rhode Island: HB 5194
Vermont: HB 99 and SB 48
Washington: SB 5247


Reminder to Midyear Meeting Registrants
The virtual NLC Commission Midyear meeting takes place on March 8, 2021 (1-4 pm CT). You should have received login information via email. Contact [email protected] with any questions.
            view this email in your browser Copyright © 2021 NCSBN, All rights reserved.
You have subscribed to receive NCSBN news or attended an NCSBN event.

Our mailing address is:
NCSBN
111 E. Wacker Drive, Suite 2900
Chicago, Illinois 60601